James Martinez
was a business colleague and close confidant of
Walter Bowart
- the author of the groundbreaking,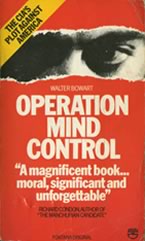 whistleblowing book
Operation Mind Control
published back in 1978. This is a fabulous audio interview which will be of enormous interest to all who (like myself) benefited greatly from Bowart's seminal work. We learned from James how Bowart, who died two years ago, in many ways 'regretted' having written the book - and how he had had profound ET contact: something never before revealed, and which he had been unwilling to talk about when he was alive. We learned of his philosophy, his hope for the human race, and his awareness of the importance of the expansion of consciousness. James summed it up by stating that for Walter, it was all about the liberation of the Human Spirit. Amen.
For the 8,000 word detailed synopsis of Walter Bowart's important unpublished work, THE INVISIBLE THIRD WORLD WAR, please click here.
http://projectcamelot.org/James_Martinez_Walter_Bowart_30_November_2009.mp3